"Science and Science of Science" is an international scientific journal published by the
National Academy of Sciences of Ukraine and Dobrov Institute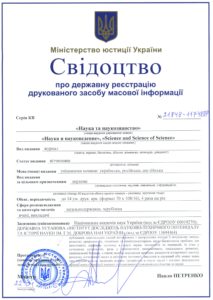 for Scientific and Technological Potential and Science History Studies of the NAS of Ukraine.
Goals:
To publish original articles of domestic and foreign scientists on vital issues of developments in natural, technical, social sciences and humanities; to highlight problems underlying the public policy in science, technology and innovation, their status in the modern society, their role in economic and social development, national security, and ways for their solution; to review historic experiences of the science development in the domestic and global context, to introduce new knowledge about academic schools, outstanding sciences, science and technology priorities, to enhance the reputation of the researcher's profession and promote the positive social attitude to the science.
Headings:
Science and innovation-driven development of economy and society
Vital problems of the modern science
Development of science and technology potential
Scientometrics
Science and education
Dobrov readings
Foreign science. International science and technology cooperation
Science and technology history
Interviews
Ukrainian archives
Chronicles of scientific life
Reviews
The articles are published in Ukrainian, English and Russian.
Periodicity – quarterly
The registration certificate: КВ № 21848-11748 ПР from January 22, 2016
Publisher: the Publishing House "Akademperiodyka"
The journal is approved as a professional publication by the Directive of the Ministry of Education and Sciences of Ukraine, issued 13.07.2015 No 47 (in the field of economics).
The journal is distributed in Ukraine and abroad.
The online copy is displayed on the web-site of Vernadskyi National Library of Ukraine.
The journal is displayed in the national bibliometric and scientometric service "Bibliometrics of the Ukrainian science"
The journal in indexed in Google Sholar.